Mengenal dan Mengidentifikasi Kecerdasan Majemuk Pada Anak
Abstract
Kegiatan pengabdian kepada masyarakat ini dilakukan untuk memberi informasi/pengetahuan mengenai kecerdasan majemuk (multiple intelligences) kepada para orang tua agar mereka dapat mengetahui dan mengidentifikasi kecerdasan majemuk anak-anak mereka, sehingga dapat menunjang perkembangan anak secara lebih positif dan progresif. Adalah penting untuk mengenal dan mengidentifikasi kecerdasan majemuk anak sejak dini, oleh karena itu kegiatan pengabdian masyarakat ini dilaksanakan di sekolah TK, yakni TK IT AL-Khalsish Medan Labuhan. Kegiatan dilaksanakan pada tanggal 25 Februari 2019. Metode yang dipergunakan adalah dengan memberikan penyuluhan dengan pemaparan materi presentasi. Pemateri sekaligus pelaksana kegiatan pengabdian masyarakat memberikan presentasi informatif mengenai kecerdasan majemuk, serta bagaimana cara untuk mengenali/ mengidentifikasi kecerdasan majemuk tersebut pada anak. Sesi tanya jawab dan diskusi juga dibuka pada saat presentasi selesai diberikan, dan para orang tua serta guru berpartisipasi dalam sesi tersebut dengan memberikan pertanyaan seputar materi kecerdasan majemuk. Dari hasil diskusi tersebut, para orang tua dan guru mengatakan bahwa mereka mendapat pengetahuan baru mengenai kecerdasan majemuk yang diharapkan dapat membantu perkembangan anak secara lebih baik.
Keywords
Kecerdasan; Majemuk; Perkembangan; Anak
References
T. Armstrong, "Multiple Intelligences in the Classroom," Association for Supervision and Curriculum Development, Virginia, 1996.
T. Armstrong, "7 Kinds of Smart: Identifying and Developing Your Intelligences," Penguin Group, New York, 1993
H. Gardner, "Multiple Intelligences: The Theory in Practice A Reader," Basic Books, New York, 1993
DOI:
http://dx.doi.org/10.30700/sm.v1i1.601
Article Metrics
Abstract view : 1408 times
PDF - 204 times
Refbacks
There are currently no refbacks.
This work is licensed under a
Creative Commons Attribution-NonCommercial 4.0 International License
.
Prosiding SINDIMAS Sudah terindex di :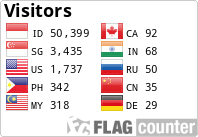 SINDIMAS Seminar Nasional Hasil Inovasi Pengabdian Masyarakat

ISBN: 978-623-90975-0-9

STMIK Pontianak
Jl. Merdeka No. 372 Pontianak, Kalimantan Barat
Phone: +62 561 735555
Fax: +62 561 737777

This work is licensed under a Creative Commons Attribution 4.0 International License.
Sponsor Utama:
Partners & Co-Organizers: