Manfaat Teknologi Informasi dengan Belajar Bahasa Inggris Lewat Video
Abstract
Penelitian ini merupakan seminar hasil pengabdian kepada masyarakat (PKM) di Panti Asuhan "Murah Hati" yang berlokasi di jl. Trans Kalimantan, Pontianak. Pengabdian ini memfokuskan pada teknologi informasi dan pemanfaatannya, yaitu belajar lewat video untuk membantu siswa dalam proses belajar bahasa Inggris. Dengan kegiatan PKM ini diharapkan bisa memfasilitasi dan membantu siswa menyelesaikan permasalahan belajar bahasa Inggris yang dihadapi seperti kekurangan sumber pembelajaran autentik, permasalahan pengucapan yang benar, permasalahan listening, masalah kosakata, dan permasalahan belajar lainnya dengan memanfaatkan teknologi yang ada, yaitu belajar dengan menggunakan video. Kegiatan seminar pengabdian ini diikuti oleh 30 peserta, yaitu 19 peserta SMP dan 11 peserta SMA, dengan latar belakang pengetahuan dan level bahasa Inggris yang berbeda. Dari hasil pengamatan dan kegiatan seminar pengabdian ini terlihat peserta begitu antusias, dibuktikan dengan partisipasi peserta dalam kegiatan PKM ini. Selanjutnya  ditayangkan beberapa video dengan teknik sistematis  untuk keefektifan pembelajaran bahasa Inggris. Kualitatif dan kuantitatif data merupakan teknik pengambilan data dalam seminar pengabdian pada masyarakat ini, berupa hasil fieldnotes selama  kegiatan berlangsung dan hasil test tertulis untuk mengetahui keefektifas penggunaan video. Hasilnya menunjukkan bahwa  penggunaan video dalam pembelajaran begitu efektif untuk meningkatkan motivasi belajar siswa sehingga bisa membantu menyelesaikan permasalahan belajar bahasa Inggris yang dihadapi selama ini
Keywords
Teknologi informasi; pemanfaatannya; belajar lewat video; keefektifan; pengabdian pada masyarakat (PKM).
References
G. Motteram, Innovations in Learning Technologies for English Language Teaching, British Council, 2013.
S. Hadijah, "Teaching by Using Video: Ways to Make It More Meaningful In EFL Classrooms", Proceedings of ISELT FBS Universitas Negeri Padang, 4(2), 2016, pp. 307-315.
F. Unsiah, P. D. D. Degeng, and I. N. Kusumawardani, "A Video For Teaching English Tenses", JELE (Journal of English Language and Education), 2016, pp. 97-98.
G. Ilin, O. Kutlu, & A. Kutluay, "An action research: Using Videos for Teaching Grammar in An ESP Class", Procedia-Social and Behavioral Sciences, 70, 2013, pp. 272-281.
C. E.. Hong, & I. V. Riper, "Enhancing Teacher Learning from Guided Video Analysis of Literacy Instruction: An Interdisciplinary and Collaborative Approach," Journal of Inquiry and Action in Education, 7(2), 2016, pp.94-110.
K. H. Chua., M. Y. Oh, L. K. Wee, & C. Tan, "Multimedia-Video for Learning", 2015, pp.1-2.
E. Cruse, "Using Educational Video in the Classroom: Theory, Research and Practice," Library Video Company, 2006.
G. L. L. Mendoza, L. C. Caranto & J. J. T. David, " Effectiveness of Video Presentation to Students' Learning", 5 (2), 2015, pp.81–86.
H. D. Brecht, "Learning from Online Video Lectures", Journal of Information Technology Education, Vol.11.2012, pp. 1, 227-250.
A. Pandiya, "Rubrics on Scoring English Tests for Four Language Skills," Ragam 13.1,2013, pp. 44-48.
DOI:
http://dx.doi.org/10.30700/sm.v1i1.542
Article Metrics
Abstract view : 680 times
PDF - 268 times
Refbacks
There are currently no refbacks.
Prosiding SINDIMAS Sudah terindex di :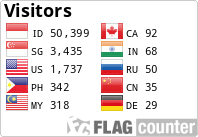 SINDIMAS Seminar Nasional Hasil Inovasi Pengabdian Masyarakat

ISBN: 978-623-90975-0-9

STMIK Pontianak
Jl. Merdeka No. 372 Pontianak, Kalimantan Barat
Phone: +62 561 735555
Fax: +62 561 737777

This work is licensed under a Creative Commons Attribution 4.0 International License.
Sponsor Utama:
Partners & Co-Organizers: