Parental Controls Mode untuk Memonitoring Anak dalam Menggunakan Perangkat Teknologi Informasi
Abstract
Penggunaan perangkat teknologi informasi bukanlah menjadi hal asing lagi bagi anak di era saat ini. Pesatnya perkembangan perangkat teknologi informasi membuat orang tua dituntut untuk dapat melakukan kontrol terhadap mereka agar penggunaan gadget dapat mendatangkan manfaat bagi anak-anak. Monitoring penggunaan gadget tersebut dilakukan dalam upaya menjaga anak supaya tidak terkena dampak negatif yang dapat mengganggu perkembangan mereka dari sisi psikologis, seperti fisik, sosial, emosi, inteligensi, dan moral. Kegiatan seminar telah dilakukan di Aula Kelurahan, Kelurahan Tengah Kota Pontianak pada tanggal 6 april 2019. Peserta berjumlah 35 orang yang terdiri dari bapak dan ibu yang berdomisili di Kelurahan Tengah Kota Pontianak. Kegiatan seminar menggunakan metode ceramah dan diskusi yang berlangsung selama 90 menit. Tujuan dari kegiatan seminar ini adalah memberikan kesadaran bagi orang tua untuk melakukan kontrol terhadap anak-anak mereka dalam penggunaan perangkat teknologi informasi seperti gadget, agar dapat memberikan dampak positif bagi tumbuh kembang mereka. Hasil dari seminar ini adalah memberikan pengetahuan kepada orang tua dalam menggunakan parental controls mode dengan platform android dan iOS agar dapat memberikan kontrol yang baik terhadap pengunaan perangkat teknologi informasi oleh anak.
Keywords
Perangkat Teknologi Informasi; Parental Controls Mode; Gadget
References
P. Hanafizadeh, S. Ghandchi, & M. Asgarimehr, "Impact of Information Technology on Lifestyle: A Literature Review and Classification," International Journal of Virtual Communities and Social Networking (IJVCSN), Vol. 9, No. 2, pp. 1-23, 2017.
S. Deb, "Information technology, its impact on society and its future," Advances in Computing, Vol. 4, No. 1, pp. 25-29, 2014
J. M. Vaterlaus, R. M. Jones, & S. Tulane, "Perceived differences in knowledge about interactive technology between young adults and their parents," Cyberpsychology: Journal of Psychosocial Research on Cyberspace, Vo. 9, No. 4, pp. 1-16, 2015.
E. H. Woo, P. White, & C. W. Lai, "Impact of information and communication technology on child health," Journal of paediatrics and child health", Vol. 52, No. 6, pp. 590-594, 2016
M. Sundus, "The impact of using gadgets on children," Journal of Depression and Anxiety, Vol. 7, No. 1, pp. 1-3, 2018
N. Nirwana, A. M. Mappapoleonro, & C. Chairunnisa, "The Effect of Gadget Toward Early Childhood Speaking Ability," Indonesian Journal of Early Childhood Education Studies, Vol. 7, No. 2, pp. 85-90, 2018
I. D. P. Eskasasnanda, "Causes and Effects of Online Video Game Playing among Junior-Senior High School Students in Malang East Java," Komunitas: International Journal of Indonesian Society and Culture, Vol. 9, No. 2, pp. 191-202, 2017
P. Fissler, I. T. Kolassa, & C. Schrader, "Educational games for brain health: revealing their unexplored potential through a neurocognitive approach," Frontiers in psychology, Vol. 6, pp. 1-6, 2015.
M. Palaus, E.M. Marron, R. Viejo-Sobera, D. & Redolar-Ripoll, "Neural basis of video gaming: A systematic review," Frontiers in human neuroscience, Vol. 11, pp. 1-40, 2017
A. S. Wahyuni, F. B. Siahaan, M. Arfa, I. Alona, & N. Nerdy, "The Relationship between the Duration of Playing Gadget and Mental Emotional State of Elementary School Students," Open access Macedonian journal of medical sciences, Vol. 7, No. 1, pp. 148–151, 2019
M. Suhana, "Influence of Gadget Usage on Children's Social-Emotional Development," In International Conference of Early Childhood Education (ICECE 2017). Atlantis Press, Vol. 169, pp. 224-227, 2017
R. H. Puspita, & D. Rohedi, "The Impact of Internet Use for Students," In IOP Conference Series: Materials Science and Engineering, Vol. 306, No. 1, pp. 1-7, IOP Publishing, 2018.
C. Fuller, E. Lehman, S. Hicks, & M. B. Novick, "Bedtime use of technology and associated sleep problems in children," Global pediatric health, Vol. 4, pp. 1-8, 2017
T. P. Sari, A. A. Mitsalia, "Pengaruh Penggunaan Gadget Terhadap Personal Sosial Anak Usia Pra Sekolah di TKIT Al Mukmin," Profesi, Vol. 13, No. 2, pp. 72-78, 2016
Heni, A. J. Mujahid, "Pengaruh Penggunaan Smartphone Terhadap Perkembangan Personal Sosial Anak Usia Pra-Sekolah," Jurnal Keperawatan Silampari, Vol. 2, No. 1, pp. 330-342, 2018
T. Alia, Irwansyah, "Pendampingan Orang Tua pada Anak Usia Dini dalam Penggunaan Teknologi Digital," Polyglot, Vol. 14, No. 1, pp. 65-78, 2018
Tarma, U. Hasanah, "Workshop Parental Control Berbasis Android untuk Mencegah Akses Konten Pornografi pada Anak Usia Sekolah Dasar di Desa Cililin Kecamatan Cililin Kabupaten Bandung Barat," Jurnal Sarwahita, Vol. 14, No. 2, pp. 145-150, 2017.
DOI:
http://dx.doi.org/10.30700/sm.v1i1.547
Article Metrics
Abstract view : 280 times
PDF - 138 times
Refbacks
There are currently no refbacks.
Prosiding SINDIMAS Sudah terindex di :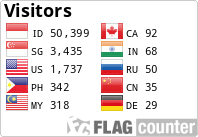 SINDIMAS Seminar Nasional Hasil Inovasi Pengabdian Masyarakat

ISBN: 978-623-90975-0-9

STMIK Pontianak
Jl. Merdeka No. 372 Pontianak, Kalimantan Barat
Phone: +62 561 735555
Fax: +62 561 737777

This work is licensed under a Creative Commons Attribution 4.0 International License.
Sponsor Utama:
Partners & Co-Organizers: