Pelatihan Penggunaan Portal Website Sekolah pada SMK Putra Khatulistiwa Pontianak
Abstract
Pemanfaatan teknologi informasi berbasis website sebagai fasilitas bagi sekolah untuk melakukan penyebaran informasi memiliki potensi menjadi sumber daya yang berharga bagi sekolah. Kegiatan pelatihan yang telah dilaksanakan di SMK Putra Khatulistiwa Pontianak sebagai bentuk dari realisasi pengabdian kepada masyarat bertujuan untuk memberikan edukasi kepada pihak sekolah akan pentingnya penggunaan website sekolah dan bagaimana cara penggunaannya. Kegiatan pelatihan ini bertujuan untuk memberikan pelatihan kepada Guru, Staf Sekolah dan Siswa dalam menggunakan website sebagai media penyebaran informasi dan media pendukung kegiatan belajar mengajar. Peserta pelatihan berjumlah 20 orang dengan pembagiannya adalah Guru berjumlah 9 orang, staf berjumlah 5 orang, siswa berjumlah 5 orang serta di hadiri juga oleh Kepala Sekolah. Penyampaian materi dilakukan selama 2.5 jam di dalam aula sekolah dengan dibantu media laptop dan LCD Projector. Praktek penggunaan website sekolah dilakukan secara langsung dengan menjelsakan fitu-fitur apa saja yang ada di dalam website sekolah. Interkasi dengan Peserta pelatihan terjadi seiring berjalannya proses demonstrasi website dimana peserta langusng menanyakan hal-hal yang tidak dimengerti. Kegiatan pelatihan ini memberikan manfaat bagi peserta dimana peserta dapat memahami cara mengoperasikan website sekolah, dan cara mendapatkan informasi tentang sekolah. Admin Sekolah dapat memahami prosedur/cara mengelola website dengan baik seghingga dapat memaksimalkan penggunaan website tersebut.
Keywords
Website Sekolah; Sistem Informasi; Penyebaran Informasi; Media Belajar
References
Peraturan Menteri Komunikasi dan Informatika Republik Indonesia Tahun 2017.
U. Kokil & S. Scott, "Usability Testing of a School Website using Qualitative Approach," 2017 - International Conference on Human Computer Interaction Theory and Applications, pp. 55-64, 2017.
D. Khusnia, B. K. Riasti, "Pembuatan Website Profil Sekolah Menengah Pertama Negeri 1 Kalitidu Bojonegoro," Indonesian Journal on Networking and Security, pp. 1-6, 2014.
M. R. S. Ariefin & Ilhamsyah, "Membangun Website Sistem Informasi Sekolah dengan Menggunakan Framework PHP Laravel pada SMA Negeri 4 Pontianak," Semirata 2015 bidang MIPA BKS-PTN Barat, pp. 1-7, 2015.
H. Supriyono, dkk., "Penerapan Teknologi Web Sekolah Bagi SMP dan SMA Muhammadiyah Kartasura," WARTA Vol .19, No.1, pp. 39-52, 2016.
C. Taddeo & A. Barnes, "The school website: Facilitating communication engagement and learning," British Journal of Educational Technology, Vol 47 No 2, pp. 421-436, 2016.
DOI:
http://dx.doi.org/10.30700/sm.v1i1.575
Article Metrics
Abstract view : 170 times
PDF - 72 times
Refbacks
There are currently no refbacks.
This work is licensed under a
Creative Commons Attribution-NonCommercial 4.0 International License
.
Prosiding SINDIMAS Sudah terindex di :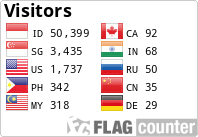 SINDIMAS Seminar Nasional Hasil Inovasi Pengabdian Masyarakat

ISBN: 978-623-90975-0-9

STMIK Pontianak
Jl. Merdeka No. 372 Pontianak, Kalimantan Barat
Phone: +62 561 735555
Fax: +62 561 737777

This work is licensed under a Creative Commons Attribution 4.0 International License.
Sponsor Utama:
Partners & Co-Organizers: